Rounding and Estimating Decimals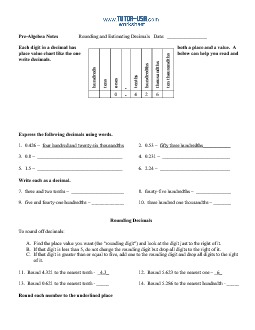 Rounding and Estimating Decimals Worksheet
---
This free algebra worksheet (used as a note-taking sheet in an Algebra classroom) contains problems on rounding and estimating decimals. Problems contain simple decimal estimations along with problems on front end estimating and clustering. A place value chart is included.
Lesson:
1. To round and estimate decimals
Samples:
Express the following decimals using words.
1. 0.426 Write each as a decimal.
7. three and two tenths
13. Round 0.621 to the nearest tenth Round each number to the underlined place
15. 38.41
All Worksheets © Tutor-USA. All Rights Reserved.