Rational Expressions - Factor and Simplify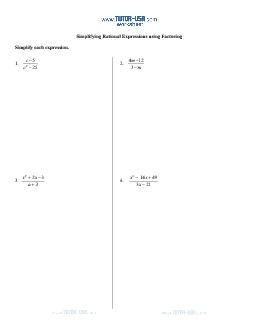 Rational Expressions - Factor and Simplify Worksheet
---
This worksheet contains problems where students must use factoring to simplify, multiply, and divide rational expressions involving polynomials. Most problems on this worksheet require the factoring of polynomials and dividing out of common factors.
Lesson:
7. To factor rational expressions.
Samples:
Simplifying Rational Expressions using Factoring
Simplify each expression.
1.  (c - 5)/(c2 - 25)
2. (4m - 12)/(3 - m)
4.  (x  - 14x + 49)/(3x - 21)
All Worksheets © Tutor-USA. All Rights Reserved.