Fractions - Graph and Evaluate Rational Numbers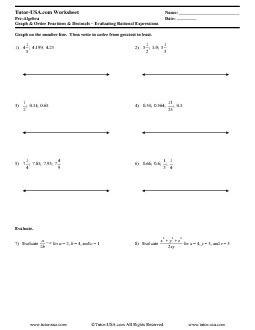 Fractions - Graph and Evaluate Rational Numbers Worksheet
---
This Free Pre-Algebra Worksheet contains problems on rational numbers. Students must graph fractions and decimals on a number line and order the numbers from greatest to least. There are also a couple problems where students must evaluate rational expressions for given values of the variables.
Lesson:
4. Graph and Order Decimals and Fractions. Evaluate Rational Expressions.
Samples:
Tutor-USA.com Worksheet
Pre-Algebra
Graph & Order Fractions & Decimals – Evaluating Rational Expressions
1-6) Graph on the number line. Then write in order from greatest to least.
 
7-8) Evaluate.
All Worksheets © Tutor-USA. All Rights Reserved.