Rules for Exponents - Multiplying Powers - Power to a Power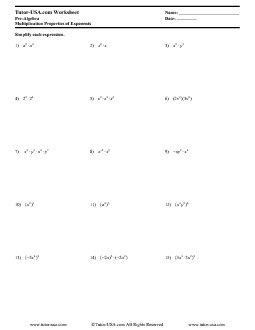 Rules for Exponents - Multiplying Powers - Power to a Power Worksheet
---
This Free Pre-Algebra Worksheet contains problems on the rules for multiplying powers. Students must use the rule of exponents for multiplication (same base, add exponents) and the power to a power rule (to raise a power to a power, multiply exponents).
Lesson:
4. To simplify expressions involving exponents by multiplying powers and raising powers to powers
Samples:
Tutor-USA.com Worksheet
Pre-Algebra
Multiplication Properties of Exponents
Simplify each expression.
1) a2 ⋅ a3
2) x8 • x
14) (−2a2) ⋅ (−2a2)
All Worksheets © Tutor-USA. All Rights Reserved.