Slope - Linear Equations - Rise over Run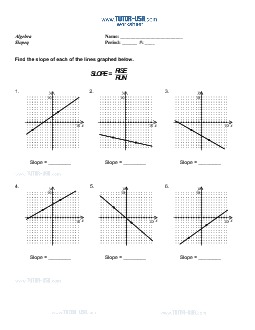 Slope - Linear Equations - Rise over Run Worksheet
---
This worksheet contains problems where students must use the slope formula (rise/run or vertical change/horizontal change) to find the slope of lines given both a graph and a pair of points.
Lesson:
3. To find slope of lines using slope formulas.
Samples:
Find the slope of each of the lines graphed below.
See worksheet for diagrams
1-6 Find the slope of a line that passes through each pair of points.
10. A(13, 14), B(10, 10)
12. A(7, 8), B(2, 5)
15. A(10, 8), B(7, 10)
All Worksheets © Tutor-USA. All Rights Reserved.