Basic Integration - Antiderivatives and Indefinite Integrals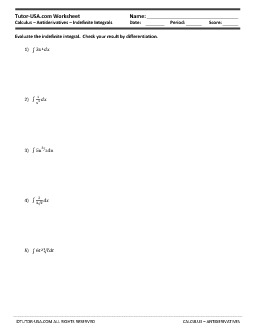 Basic Integration - Antiderivatives and Indefinite Integrals Worksheet
---
This free calculus worksheet contains problems on antiderivatives and indefinite integration. Students must use the basic integration rules to evaluate indefinite integrals and trigonometric integrals. They are asked to check their answers using differentiation.
Lesson:
To evaluate indefinite integrals, trigonometric integrals and check answers by differentiation.
Samples:
Tutor-USA.com Worksheet
Calculus – Antiderivatives – Indefinite Integrals
Evaluate the indefinite integral. Check your result by differentiation.
1)  ∫3x4 dx
2)  ∫1/x3 dx
6) ∫y3(2y2 - 3) dy
12)  ∫(3 sin t - 2 cos t) dt 
14)  ∫(4 csc x cot x + 2 sec2 x) dx
All Worksheets © Tutor-USA. All Rights Reserved.