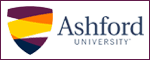 Ashford University has a campus location in Clinton, Iowa and is based out of San Diego, CA. Most students enrolled at Ashford study exclusively online. They offer over 50 different degree programs.
Teaching Degree Summary:
Ashford University offers a number of degree options for teachers, educations, and those looking to get into administration. Online education programs include bachelor degree programs in Cognitive Studies, Instruction Design, and Educational Studies. Master Degrees include Teaching and Learning Technology and Master of Arts in Education.
Bachelor Degree Programs:
B.A. in Cognitive Studies
B.A. in Instructional Design
B.A. in Child Development
B.A. in Early Childhood Education
B.A. in Education Studies
B.A. in English Language Learner Studies
B.A. in Library Science and Media