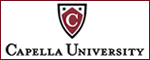 Capella University is a fully accredited university that offers affordable and flexible online degree programs in Education and other fields such as Technology, Finance, Accounting, and more. Capella is a leader in online education providing degree programs that take place 100% online and combine interactivity and flexibility to make pursuing a college degree as simple as possible for its students.
Teaching Degree Summary:
Capella University provides a variety of teaching and education related degree programs for both aspiring and current teachers. They offer education degrees in K-12 Teaching, Higher Education, Adult Education, as well as post-masters certificate programs. Earn a Ph.D, Ed.D, Ed.S, or M.S. in Education from the comfort of your home.
Master Degree Programs:
M.S. in Curriculum and Instruction
M.S. in K–12 Studies in Education
M.S. in Leadership in Educational Administration
M.S. in Enrollment Management
M.S. in Instructional Design for Online Learning
M.S. in Leadership for Higher Education
M.S. in Postsecondary and Adult Education
M.S. in Professional Studies in Education
M.S. in Reading and Literacy
M.S. in Training and Performance Improvement
M.S. in Special Education
Doctorate Degree Programs:
Ph.D in Curriculum and Instruction
Ph.D in K–12 Studies in Education
Ph.D in Instructional Design for Online Learning
Ph.D in Leadership for Higher Education
Ph.D in Leadership in Educational Administration
Ph.D in Postsecondary and Adult Education
Ph.D in Professional Studies in Education
Ph.D in Special Education Leadership
Ph.D in Training and Performance Improvement
Ed.D in Educational Leadership and Management
Ed.S in Curriculum and Instruction
Ed.S in Leadership Education Administration