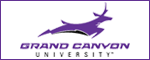 Grand Canyon University is an accredited online college staffed with faculty and staff who are leaders in academia and have real-world experience in the field they teach. Grand Canyon University offers a large selection of undergraduate and graduate degree programs and is regarded as one of the top universities for students looking to advance their careers from the comfort of home.
Teaching Degree Summary:
Grand Canyon University offers one of the best selection of education and teaching degree programs online with over 30 different degree programs to choose from. Their programs for teachers include B.S. in Elementary Education, B.S. in Secondary Education, M.A. in Teaching and Teacher Leadership, M.Ed. in Secondary Ed., and M.Ed. in Special Ed. just to name a few.
Bachelor Degree Programs:
B.S. in Elementary Education - Early Childhood Education
B.S. in Elementary Education - Special Education
B.S. in Elementary Education - English
B.S. in Elementary Education - Math
B.S. in Elementary Education - Science
B.S. in Secondary Education - Business Education
B.S. in Secondary Education - English
B.S. in Secondary Education - Math
B.S. in Secondary Education - Biology
B.S. in Secondary Education - Chemistry
B.S. in Secondary Education - Physical Education
Master Degree Programs:
M.A. in Teaching - Professional Learning
M.A. in Teaching - Teacher Leadership
M.Ed in Education Administration
M.Ed in Curriculum and Instruction - Elementary Education
M.Ed in Curriculum and Instruction - Secondary Education
M.Ed in Curriculum and Instruction - Technology
M.Ed in Education Administration
M.Ed in Elementary Education
M.Ed in Secondary Education
M.Ed in Special Education
M.Ed in Teaching English to Speaker of Other Languanges
Doctorate Degree Programs:
Ed.D. in Organizational Leadership - Organizational Development
Ed.D. in Organizational Leadership - Higher Education Leadership
Ed.D. in Organizational Leadership - Effective Schools
Ed.D. in Organizational Leadership - Behavioral Health
Ed.D. in Organizational Leadership - Instructional Leadership