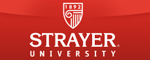 Strayer University is known for its higher education programs for working adults looking to advance their careers. They currently have more than 54,000 students enrolled in online programs and at over 70 campuses in 16 US states.
Teaching Degree Summary:
Strayer University offers Master of Education degrees for both active teachers and for those looking to change to a career in teaching and education. Programs in include Master of Education in Educational Management and Master of Education in Technology in Education.
Master Degree Programs:
M.Ed in Educational Management
M.Ed in Technology in Education