Algebraic Equations - Simplify Rational Expressions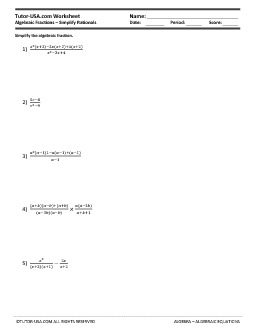 Algebraic Equations - Simplify Rational Expressions Worksheet
---
In this free algebra worksheet, students must simplify algebraic expressions by use of the distributive property, combining like terms, cancellation, and other algebra techniques.
Lesson:
To simplify algebraic fractions or rational expressions.
Samples:
Tutor-USA.com Worksheet
Algebraic Fractions – Simplify Rationals
Simplify the algebraic fraction.
Worksheet Screenshot:
All Worksheets © Tutor-USA. All Rights Reserved.