Exponents - Negative and Zero Exponents - Rational Exponents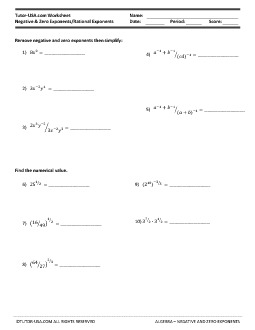 Exponents - Negative and Zero Exponents - Rational Exponents Worksheet
---
This free algebra worksheet contains problems where students must simplify and evaluate expressions with exponents. Students will need to apply rules for multiplying exponents and dividing exponents in addition to the rules for zero and negative exponents.
Lesson:
To simplify and evaluate expressions involving negative, zero, and rational exponents
Samples:
Tutor-USA.com Worksheet
Negative & Zero Exponents/Rational Exponents
Remove negative and zero exponents then simplify:
1)  8x0
5) a-1 + b-1 / (a + b)-1
Find the numerical value.
6) 251/2
9) (210)-3/5
Simplify.
11)  x1/4 ÷ x1/5
All Worksheets © Tutor-USA. All Rights Reserved.