Matrices - Products of Matrices - Matrix Equations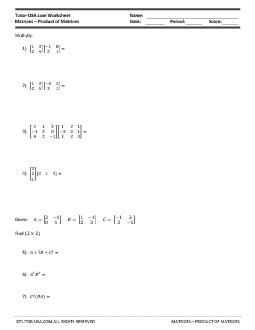 Matrices - Products of Matrices - Matrix Equations Worksheet
---
This free algebra worksheet contains problems on matrices. Students must find the product of matrices, write matrix equations, and solve matrix equations.
Lesson:
To multiply matrices. To write matrix equations and solve.
Samples:
Tutor-USA.com Worksheet
Matrices – Product of Matrices
1-4) Multiply.
5)  A + (B + C)
6)  ATBT
7)  CT(BA)
8)  Write in matrix equation and solve for the matrix.
9) Solve.
All Worksheets © Tutor-USA. All Rights Reserved.