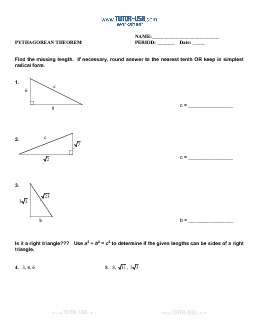 Pythagorean Thoerem Worksheet
---
This free math worksheet contains pythagorean theorem problems. Students must find missing lengths in right triangles and determine if a triangle is right by applying the pythagorean theorem.
Lesson:
To find missing lengths in triangles using the pythagorean theorem
Samples:
Find the missing length. If necessary, round answer to the nearest tenth OR keep in simplest radical form.
Problems 1-3
Is it a right triangle? Use the pythagorean theorem to determine if the given lengths can be sides of a right triangle.
4. 3, 4, 6
All Worksheets © Tutor-USA. All Rights Reserved.