Inequalities - Solve and Graph Inequalities 4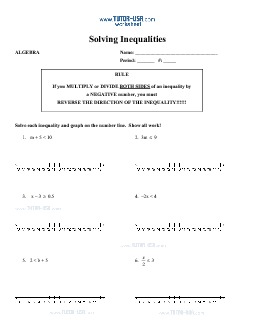 Inequalities - Solve and Graph Inequalities 4 Worksheet
---
This free algebra worksheet begins with the rule stating to reverse the sign of the inequality when multiplying or dividing both sides by a negative. Students must use this rule and inverse operations to solve inequalities and graph their solution on a number line.
Lesson:
9. To solve and graph inequalities
Samples:
RULE
If you MULTIPLY or DIVIDE BOTH SIDES of an inequality by
a NEGATIVE number, you must
REVERSE THE DIRECTION OF THE INEQUALITY!!!!!!
Solve each inequality and graph on the number line. Show all work!
1. m + 5 < 10
5. 2 < b + 5
Solve each inequality. Show all work.
7. x – 10 ≤ –7
13. c – 3 < 22
All Worksheets © Tutor-USA. All Rights Reserved.