Derivatives - Simplest Cases and Radicals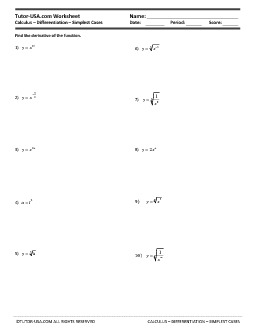 Derivatives - Simplest Cases and Radicals Worksheet
---
In this free calculus worksheet, students must find the derivative of a function by applying the power rule. The first 5 problems are simple cases. The remaining problems involve functions containing radicals / square roots.
Lesson:
To find the derivatives of functions using the power rules.
Samples:
Tutor-USA.com Worksheet
Calculus – Differentiation – Simplest Cases
Find the derivative of the function.
1)  y = x13
3)  y = x2a
8)  y = 2xa
9)  y = √x3
All Worksheets © Tutor-USA. All Rights Reserved.