Integration by Substitution - Antiderivatives - Change of Variable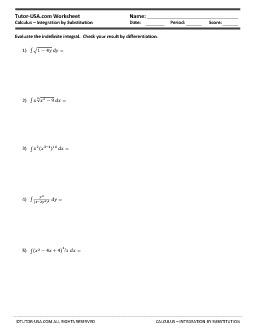 Integration by Substitution - Antiderivatives - Change of Variable Worksheet
---
This free calculus worksheet contains problems where students must evaluate integrals using substitution, pattern recognition, change of variable, and the general power rule for integration. This worksheet contains 16 problems and an answer key.
Lesson:
To evaluate indefinite integrals using the subsitution rule, change of variables, and the power rule
Samples:
Tutor-USA.com Worksheet
Calculus – Integration by Substitution
Evaluate the indefinite integral.  Check your result by differentiation. 
1)  ∫ √(1 - 4y) dy
5)  ∫ (x2 - 4x + 4)4/3  dx
10)  ∫ 6x2 sin x3  dx
13)  ∫ cos x(2 + sin x)5 dx
All Worksheets © Tutor-USA. All Rights Reserved.