Solving Limits in Calculus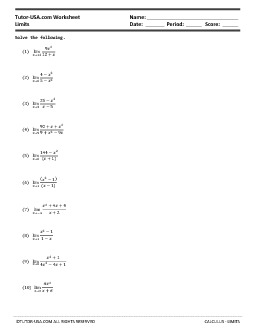 Solving Limits in Calculus Worksheet
---
This printable calculus worksheet contains problems on calculus limits. Students must use their knowledge of limits to solve problems.
Lesson:
To show an understanding of calculus limits and use them to solve problems
Samples:
Tutor‐USA.com Worksheet Name:
Limits
Solve the following.
-------------------
4. Find the limit as x approaches 9 of 90 + x + x2 / 9 + x2 - 9x
(Problems are currently formatted on worksheet.  Please see actual worksheet).
All Worksheets © Tutor-USA. All Rights Reserved.