Inverses, Contrapositives, and Indirect Reasoning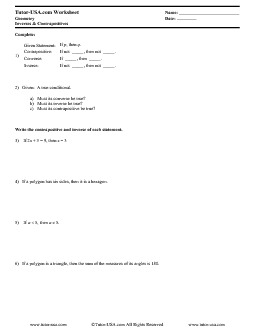 Inverses, Contrapositives, and Indirect Reasoning Worksheet
---
This worksheet contains problems on inverses, contrapositives, equivalent statements, and indirect reasononing. Problems include finding inverses and contrapositives of given statements.
Lesson:
2. To find inverses and contrapositives.
Samples:
Inverses & Contrapositives
Complete:
1) Given Statement: If p, then q.
Contrapositive: If not _____ , then not _____.
Converse: : If ______, then ______.
Inverse: If not _____, then not _____.
2) Given: A true conditional.
a) Must its converse be true?
b) Must its inverse be true?
c) Must its contrapositive be true?
Write the contrapositive and inverse of each statement.
4) If a polygon has six sides, then it is a hexagon.
6) If a polygon is a triangle, then the sum of the measures of its angles is 180.
All Worksheets © Tutor-USA. All Rights Reserved.