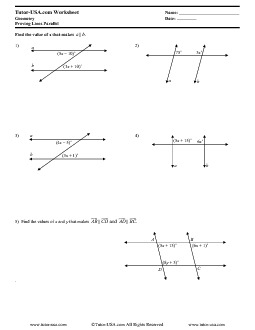 Proving Lines Parallel Worksheet
---
This free geometry worksheet requires the use of the properties of parallel lines including the Alternate Interior Angle Theorem, Corresponding Angles Theorem, and the Same-Side Interior Angle Theorem and their converses. Problems include the completion proofs and finding the values of missing angles to make a pair of lines parallel.
Lesson:
To prove lines are parallel.
Samples:
Proving Lines Parallel
1-5) Find the value of x that makes a parallel to b.
6-7) Complete a two-column proof. (see worksheet for complete problems and figures)
All Worksheets © Tutor-USA. All Rights Reserved.