Rays, Opposite Rays, Parallel, Skew, Intersection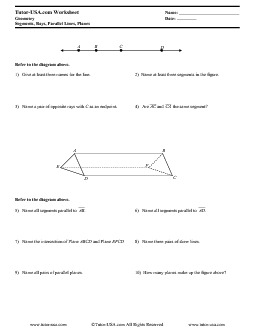 Rays, Opposite Rays, Parallel, Skew, Intersection Worksheet
---
Recognizing and naming rays and opposite rays. Identifying pairs of skew and parallel lines and planes. Determining the intersection between pairs of lines and planes.
Lesson:
1. To use and identify rays, parallel, and skew lines and planes.
Samples:
Segments, Rays, Parallel Lines, Planes
1) Give at least three names for the line.
2) Name at least three segments in the figure.
3) Name a pair of opposite rays with C as an endpoint.
4) Are AC and CA the same segment?
5) Name all segments parallel to AB.
6) Name all segments parallel to AD.
7) Name the intersection of Plane ABCD and Plane EFCD
8) Name three pairs of skew lines.
9) Name all pairs of parallel planes.
10) How many planes make up the figure above?
All Worksheets © Tutor-USA. All Rights Reserved.