Triangle Congruence Proofs - CPCTC - Corresponding Parts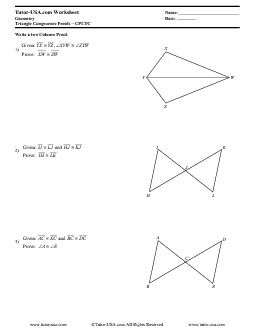 Triangle Congruence Proofs - CPCTC - Corresponding Parts Worksheet
---
This worksheet contains proofs and problems where students must show that sides or angles are congruent using the triangle congruence postulates (SSS, SAS, ASA, AAS) and CPCTC (Congruent Parts of Congruent Triangles are Congruent).
Lesson:
To complete geometric triangle congruence proofs using CPCTC
Samples:
Geometry Worksheet
Triangle Congruence Proofs – CPCTC
1-6) Write a two Column Proof. Please see worksheet for diagrams and proofs. Contains 6 proofs where students must use CPCTC and other triangle congruence properties and definitions to write two column proofs.
All Worksheets © Tutor-USA. All Rights Reserved.