Kindergarten - Same and Different - Alike or Different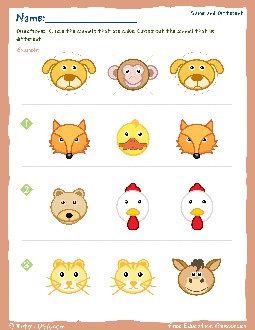 Kindergarten - Same and Different - Alike or Different Worksheet
---
In this free Kindergarten Math Worksheet, students must identify objects (animal shapes) that are alike and recognize which are different. The worksheet asks students to circle similar objects and cross out the one that is different.
Lesson:
1.1 To group, classify, and identify objects that are alike in some way.
Samples:
This free kindergarten worksheet contains a number of pictures and diagrams. Please see actual worksheet for problems.
All Worksheets © Tutor-USA. All Rights Reserved.