Order of Operations, Grouping Symbols, Exponents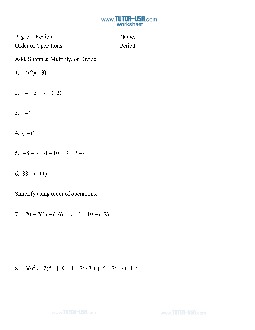 Order of Operations, Grouping Symbols, Exponents Worksheet
---
This is a basic Free Pre-Algebra Worksheet with problems that require an understanding of operations with negative numbers, exponents, and the order of operations.
Lesson:
To use order of operations, grouping symbols, and exponents
Samples:
Algebra Review
Order of Operations

1-6) Add, Subtract, Multiply, or Divide.
7-8) Simplify using order of operations.
 
All Worksheets © Tutor-USA. All Rights Reserved.