Percent Problems - Finding Percentages with Equations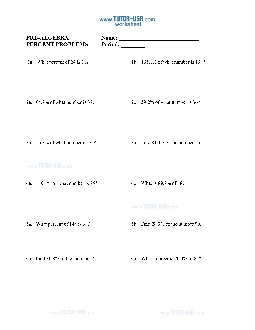 Percent Problems - Finding Percentages with Equations Worksheet
---
This Free Pre-Algebra Worksheet contains problems on finding percentages. All problems are in "what-is-of" format, such as "What is 103% of 3?", which can be solved by setting up an equation.
Lesson:
6. To find percents by setting up equations
Samples:
Free Pre-Algebra Worksheet
1a. What percent of 24 is 11?
3a. 56.3% of what number is 145?
6a. Find 30.8% of the number 141.
10a. 34 is what percent of 144?
12a. What is 103% of 3?
All Worksheets © Tutor-USA. All Rights Reserved.