Rules for Exponents - Powers of Products and Quotients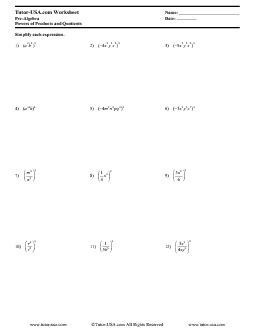 Rules for Exponents - Powers of Products and Quotients Worksheet
---
This Free Pre-Algebra Worksheet contains problems on exponents and simplifying expressions by using by multiplying powers, dividing powers, and raising powers to powers. Students will have to apply one or more of the appropriate exponent rules to solve each problem.
Lesson:
5. To solve problems with exponents using rules for multipying and dividing powers and raising powers to powers.
Samples:
Tutor-USA.com Worksheet
Pre-Algebra
Powers of Products and Quotients
Simplify each expression.
1) (a2b3)4
5) (-4m2n4pq3)2
9) (5x2/6)2
12) (3x3/4xy3)2
All Worksheets © Tutor-USA. All Rights Reserved.