Slope - Standard Form and Slope Intercept Form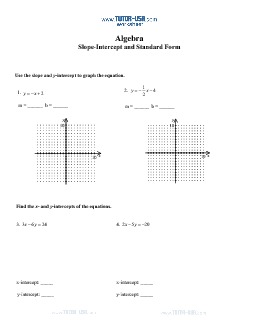 Slope - Standard Form and Slope Intercept Form Worksheet
---
This worksheet contains problems on slope-intercept and standard form. Students must graph equations using slope and y-intercept when in slope-intercept form and using the x-intercept and y-intercept when in standard form. Problems also include writing equations in standard form.
Lesson:
3. To find slope using standard form and slope-intercept form
Samples:
Algebra
Slope-Intercept and Standard Form
Use the slope and y-intercept to graph the equation.
1. y = −x + 2
Find the x- and y-intercepts of the equations.
3. 3x − 6y = 24
Graph the equation using x- and y-intercepts.
5. − 6x + 2y = –12
Graph the equations.
7. x = –2
Write the equation in standard form using integers (standard form Ax + By = C).
9. y = 7x −1
All Worksheets © Tutor-USA. All Rights Reserved.