Algebra Exponent Rules and Properties Sheet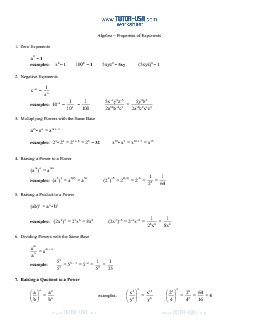 Algebra Exponent Rules and Properties Sheet Worksheet
---
This handout contains the rules and properties for Exponents. This review sheet contains no problems, but gives examples for each of the exponent rules.
Lesson:
5. To learn and review exponent rules.
Samples:
Algebra – Properties of Exponents
1. Zero Exponents
2. Negative Exponents
3. Multiplying Powers with the Same Base
4. Raising a Power to a Power
5. Raising a Product to a Power
6. Dividing Powers with the Same Base
7. Raising a Quotient to a Power
 
All Worksheets © Tutor-USA. All Rights Reserved.