Systems of Equations - Solve using Graphing and Substitution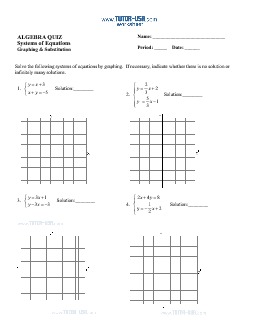 Systems of Equations - Solve using Graphing and Substitution Worksheet
---
This free algebra worksheet contains problems on solving systems of equations. Students must use the graphing method (coordinate planes are included) or substitution.
Lesson:
4. To solve system of equations using graphing and substitution
Samples:
ALGEBRA QUIZ
Systems of Equations
Graphing & Substitution
1-4) Solve the following systems of equations by graphing. If necessary, indicate whether there is no solution or infinitely many solutions. (see worksheet)
5-8) Solve by substitution. (see worksheet)
Are your answers to #1 and #8 the same? _____ Should they be? ______
All Worksheets © Tutor-USA. All Rights Reserved.