Free Systems Of Equations Worksheets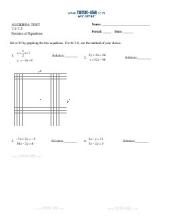 In this free algebra worksheet students must solving systems of equations using the graphing, substitution, and elimination methods. Students are required to use the graphing method in problem 1. Any...
This free algebra worksheet contains problems on solving systems of equations. Students must use the graphing method (coordinate planes are included) or substitution.