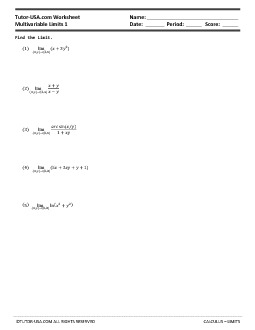 Multivariable Limits Worksheet
---
In this printable free calculus worksheet, students must find values of limits in two variables. Students should first determine if the limit exists and if they do give the value of the limit.
Lesson:
To find the value of multivariable limits in calculus
Samples:
Tutor‐USA.com Worksheet Name:
Multivariable Limits 1
Find the Limit.
1) lim (x, y) -> (2, 1)   x + 3y2
3) lim (x, y) -> (0,1)  arcsin (x/y) / 1 + xy
All Worksheets © Tutor-USA. All Rights Reserved.