Properties of Parallelograms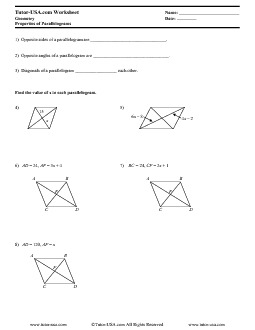 Properties of Parallelograms Worksheet
---
This free geometry worksheet contains problems on the properties and theorems of parallelograms. Problems require the application of the definitions and properties of opposite sides, opposite angles, consecutive angles, and diagonals of a parallelograms.
Lesson:
5. To use and apply the properties of parallelograms.
Samples:
Tutor-USA.com Worksheet
Geometry
Properties of Parallelograms

1) Opposite sides of a parallelogram are _______.
2) Opposite angles of a parallelogram are ______________.
3) Diagonals of a parallelogram _______________ each other.
Find the value of x in each parallelogram.
6) AD = 24, AF = 3x + 4
7) BC = 24, CF = 2x + 1
9-11) Find the value of a, b, x, and y in each parallelogram.
All Worksheets © Tutor-USA. All Rights Reserved.