Common Logarithms - Mantissa and Characteristic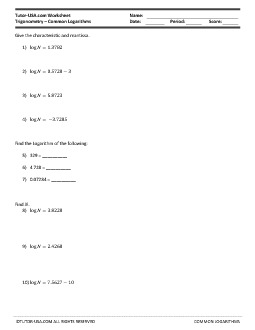 Common Logarithms - Mantissa and Characteristic Worksheet
---
This free trigonometry worksheet contains problems on common logarithms. The worksheet begins with problems where students must find the mantissa and characteristic of logarithms. The remaining problems require use of the properties of common logs to solve.
Lesson:
To find common logarithms and identify mantissa and characteristic of logarithmic functions
Samples:
Tutor-USA.com Worksheet
Trigonometry – Common Logarithms
Give the characteristic and mantissa.
1)  log N = 1.3782
3)  log N = 5.8723
Find the Logarithm of the following:
5)  329
7) 0.07284
Find N.
9)  log N = 2.4268
All Worksheets © Tutor-USA. All Rights Reserved.