Area of Parallelograms and Triangles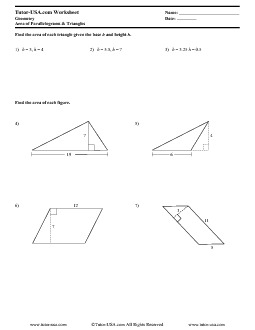 Area of Parallelograms and Triangles Worksheet
---
Problems in this worksheet require the use of the formulas for the area of parallelograms (A = bh) and triangles (A = 1/2bh) to find the area of different polygons.
Lesson:
5. To find the area of parallelograms and triangles
Samples:
Area of Parallelograms & Triangles
1-3) Find the area of each triangle given the base b and height h.
4-7) Find the area of each figure.
All Worksheets © Tutor-USA. All Rights Reserved.